The Orthodox Monastery of Cantauque was founded in 2002 by monks returning to France after a 20-year stay in the Holy Land. The monastery is situated on a large domain of farmland and forests about 30 kilometres from the town of Carcassonne in south-eastern France. The Monastery of the Theotokos and Saint Martin is within the Romanian Orthodox Church, under the omophor of Bp. Joseph Pop, Metropolitan Archbishop for Western and Southern Europe.

This monastic community follows the traditional orthodox monastic rule. Church services are in French and the music style is psaltic (Greek-Byzantine).

Orthodox Monastery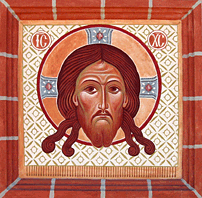 of the Theotokos
and Saint Martin
The Monastery has initiated the adaptation of this style of Orthodox music to the French language. The Monastery has also translated the Divine Liturgies of both Saint John Chrysostom and Saint Basil the Great.

The Monastery's main activities are hospitality, training sessions in iconography, psaltic chant, Biblical Hebrew, wood engraving and the restoration of ancient Icons.

The monks are also planning to build a church, with benefactors' support, in the basilical style reminiscent of the days when Western and Oriental Churches were united in the same Catholic and Orthodox Christian Faith.